Managing and Sharing Knowledge through Portal:
The Johns Hopkins University Libraries' Experience
Xuemao Wang
The Sheridan Libraries
Johns Hopkins University
Baltimore, MD 21218-2683
U.S.A.
xmw@jhu.edu
Dongming Zhang
Welch Medical Library
Johns Hopkins University
Baltimore, MD 21205-2113
U.S.A.
zhang@jhmi.edu
ABSTRACT: In the Knowledge Management (KM) arena, portal systems are assuming a more prominent role for organizations to collect, manage and disseminate resources in an automated, specific and relevant way. Universities use portal to provide a uniformed user interface and to integrate disparate information systems important to their academic missions and operations. One important sub-system of enterprise portal, the library information portal (LIP), has been playing a key role in bridging information resources, people, and intellectual properties in the knowledge management and sharing environment.

The paper summarizes Johns Hopkins University's experience with planning and developing a concept of enterprise portal project and describes the relationship between LIP and enterprise portal systems in general. The concept of JHU's enterprise portal includes components such as: user needs assessment, reference portal prototype, open technology standards, single sign-on, portlets implementation, academic/administrative system integration, and project management methodology. The paper further provides an overview of the current LIP development among U.S. academic institutions and discusses how it enhances users' daily activities on information seeking and knowledge management with a case study of MyWelch – Hopkins Medical Information Portal. Finally, the paper concludes with an outline of possible future directions for JHU's enterprise portal project.
Knowledge Management and Portal
What is knowledge?
It is necessary to understand some properties of "knowledge" within the knowledge management frame works.
According to a dictionary, the knowledge is "(1). The fact or condition of knowing something with familiarity gained through experience or association (2). Acquaintance with or understanding of a science, art, or technique".1
It seems easier to understand definition of theknowledge when it is being put into the comparative context with data and information, for example: we can say that "2,654,321 is data"; "Hopkins libraries holds 2,654,321 volumes" is information; "40% of Hopkins libraries' 2,654,321 collections now is in digital format, and it increase annually at 5% rate" is knowledge!
What is the Knowledge Management?
The Knowledge Management (KM) is "The process by which an enterprise consciously and comprehensively gathers, organizes, shares, and analyzes its knowledge to further its aims."2
KM has become a newly emerging, interdisciplinary business model dealing with all aspects of knowledge within the context of the organization, including knowledge creation, organization, sharing, dissemination and how these activities promote learning and innovation.
There is no single agreed definition of KM. A quick Internet searches, can land you definitions of KM that illustrate the variant scopes of KM from conceptual and practical perspective. For example: one could aim on conceptual value defines KM as "Knowledge Management is the art of creating value from the intangible assets of an organization"3; another focus more on practical process defines KM as "Knowledge Management consists in the identification, optimization, and dynamic management of the intellectual assets possessed in explicit or implicit form by persons or communities."4
What is Portal?
Portal simply means "a door or entrance to…" in dictionary.
In the Internet world, portal has been given new meanings. According to The Free Online Dictionary of Computing, a simple definition of portal is "A web site that aims to be an entry point to the World-Wide Web, typically offering a search engine and/or links to useful pages, and possibly news or other services…"5 As organizations depend more on Web based technology to manage their intellectual assets – knowledge, definition of portal or enterprise portal or enterprise information portal has been emerged with a focus on business application integration as one outlines : "Enterprise information portals are applications that enable companies to unlock internally and externally stored information, and provide users a single gateway to personalized information needed to make informed business decisions".6
Depends on what services are provided behind the portal, portals are divided into different categories such as horizontal portal and vertical portal. Popular examples of horizontal portals are MyYahoo and MyMSN. Vertical portals may just concentrate on one particular subject, e.g. technology or library services.
What is Library Information Portal?
In the library world, Library Information Portal (LIP) has specific meanings that related to libraries main mission with information or knowledge organization and dissemination. Association of Research Library (ARL) has done a survey among American research libraries about portal and found that ARL libraries defined portal in different ways, still many of them shared common components of portal. Although there is general consensus about the LIP's functionalities, however, these variant descriptions of portal confirm that there is no universal definition of "portal".7
Below are examples of various LIP definitions according to ARL survey:
Portal as a Web gateway to digital resources and services that provides a high level of seamless integration and includes a feature-rich kit of tools that facilitates use along the entire scholarly communications spectrum (Duke University)
Portal as a package of services and tools to facilitate the discovery, retrieval, and management of information from various resources in an integrated fashion, and in doing so, takes into account the individual and personalized needs of faculty and students doing research and creating knowledge. (The University of California)
Portal as a multi-dimensional scholarly environment; a site that allows resource discovery across disparate platforms; manipulation, customization, and enhancement of data and documents; location services (ILL, local delivery, mail-order); and tools to allow academic users to store and organize their own subsets. It is a combination of resources and services tailored to the institutional setting of the user. (The University of California)
Portal is a user-centric (i.e., customized and personalized) Web page that allows users to easily locate all the Web content they commonly use—a "one-stop Web page. (Cornell University)
Portal as a federated search engine that can search across quality material; it is not just a Web site with different constituencies. (Washington University)
Portal is a resource for its constituents, integrating applications and content from a variety of sources to create a targeted, Web-based presentation of information and functionality. In this capacity, the portal uses secure, open, and standard protocols as well as gives the user the ability to augment and constrain a view. (University of Illinois at Chicago)
Portal is a means by which the researcher or student can access a wide range of information easily with a single or near single search. Iowa believes it is more than a Web site as there is a software embedded that goes beyond HTTP, using a broad range of protocols, including XML, that will allow users to tailor their federated searches to meet their needs. It also should allow users to manipulate results, including de-duplicating, merging, formatting, and porting the result sets into other applications. (The University of Iowa)
The portal collection of applications and services available to a user through one unique display interaction. The portal serves as a jumping off point for exploring content, and USC envisions their portal to provide access to high quality scholarly resources, but have that content as easily accessible to students as are Google resources. (University of Southern California)
The portal as one-stop shopping for users. (University of Utah)
Regardless of LIP's variant descriptions, they share following common features:8
A configurable and integrated interface to multiple resources
To unify searching across multiple systems, including multiple makes of library system
A unify searching across different metadata schemes, such as MARC, Dublin Core,
CIMI, TEI, EAD etc and using multiple protocols (e.g. http, Z39.50), deliver results in acceptable response times, with de-duplication etc.
To unify searching across different formats of material, e.g. bibliographic records, full text, graphics and multimedia objects
To identify different sources for the same information and guide the user through choosing appropriate search targets or delivery options in line with library policy
To simplify authentication and authorization for the user, probably interacting with existing authentication systems through LDAP or Kerberos, and other digital rights management functions
To store profiles of users to offer 'MyLibrary' interfaces and alerting of new resources
To provide dynamic reference and citation linking
To provide full and integrated management information and usage statistics
The Johns Hopkins University and its Libraries
The Johns Hopkins University opened Feb. 22, 1876, with the inauguration of its first president, Daniel Coit Gilman.

Gilman dismissed the notion that teaching and research are separate endeavors; he believed that success in one depended on success in the other. The realization of Gilman's philosophy at Hopkins, and at other institutions that later attracted Hopkins-trained scholars, revolutionized higher education in America, leading to the research university system as it exists today.

Hopkins remains a leader, in both teaching and research. The School of Medicine is one of the best anywhere, and the Bloomberg School of Public Health is renowned for contributions worldwide to preventive medicine and the health of large populations. In recent years, Johns Hopkins has won more federal research and development funding than any other university. This is due in large measure to the work of the Applied Physics Laboratory, a division of the university devoted entirely to research and development. The School of Medicine, however, is the largest recipient of National Institutes of Health research grants to medical schools. The Bloomberg School of Public Health, the first of its kind in this country, ranks first among public health schools in federal research support.

In all, the university has eight academic divisions. The Zanvyl Krieger School of Arts and Sciences, the G.W.C Whiting School of Engineering and the School of Professional Studies in Business and Education are based at the Homewood campus in northern Baltimore. The schools of Medicine, Public Health, and Nursing are in east Baltimore, sharing a campus with The Johns Hopkins Hospital. The Peabody Institute, founded in 1857 and a leading professional school of music, has been affiliated with Johns Hopkins since 1977. It is located on Mount Vernon Place in downtown Baltimore. The Paul H. Nitze School of Advanced International Studies, founded in 1943, has been a Hopkins division since 1950. It is located in Washington, D.C.

The Applied Physics Laboratory is a division of the university co-equal to the eight schools, but with a non-academic mission. APL, located between Baltimore and Washington, is noted for contributions to national security, space exploration and other civilian research and development. It has developed more than 100 biomedical devices, many in collaboration with the Johns Hopkins Medical Institutions.

Johns Hopkins also has a campus near Rockville in Montgomery County, Md., and has academic facilities in Nanjing, China, and in Bologna and Florence, Italy. It maintains a network of continuing education facilities throughout the Baltimore-Washington area, including centers in downtown Baltimore, in downtown Washington and in Columbia.

The Sheridan Libraries

The Sheridan Libraries encompass the Milton S. Eisenhower Library and its collections at the Albert D. Hutzler Reading Room in Gilman Hall, the John Work Garrett Library at Evergreen House and the George Peabody Library at Mt. Vernon Place. In 1998 these libraries were re-dedicated as "The Sheridan Libraries" to reflect the extraordinary generosity of Mr. and Mrs. R. Champlin Sheridan. Together these collections provide the major research library resources for the university.

The mission of the Sheridan Libraries is to advance research and teaching at The Johns Hopkins University by providing information resources, instruction, and services. The School of Arts and Sciences, the Whiting School of Engineering, and the School of Continuing Studies comprise the library's primary constituency. The libraries also serve as a university-wide resource supplementing the collections of the independently-administered libraries serving the University's other schools.

The Milton S. Eisenhower Library

The Milton S. Eisenhower Library is the university's principal research library and the largest in a network of libraries at Johns Hopkins. Opened in 1964, the library was named for the university's eighth president, whose vision brought together the university's rich collection of books, journals and other scholarly resources. The Eisenhower Library collection numbers over 2.5 million volumes. Strengths in the humanities include German and Romance Languages, Philosophy and the Ancient Near East. In science and engineering, collection strengths include biomedical engineering, chemistry and environmental engineering. The library also offers an extensive array of electronic resources, including full-text books and journals, specialized databases, and statistical and cartographic data.

The John Work Garrett Library

The Garrett Library is located in Evergreen House, the former residence of Ambassador John Work Garrett and his wife Alice Warder Garrett. The house was bequeathed to the university in 1942 and the library contains about 28,600 volumes. The collection, which can be used by appointment only, features 16th and 17th-century English literature, especially the works of Shakespeare, Bacon, Spenser and Milton. Also strong in natural history, the library has some of the most important and beautiful ornithological works ever produced by John James Audubon, John Gould, and Alexander Wilson. The Fowler Architectural Collection focuses on early editions of Vitruvius and the great Renaissance architects Alberti, Serlio, Palladio, Vignola, and Scamozzi.

The Albert D. Hutzler Undergraduate Library "The HUT"

Commonly referred to as "The HUT", the Hutzler Reading Room is open on a 24-hour basis during the academic year. Located in Gilman Hall, opposite the Eisenhower Library, the HUT occupies a central room in the oldest academic building on the Homewood Campus, featuring a high ceiling and beautiful stained-glass windows. It is well suited for group study, and contains a non-circulating collection of reference works, books, magazines and newspapers. A special science fiction and fantasy collection circulates for one-month periods.

George Peabody Library

The George Peabody Library, formerly the Library of the Peabody Institute of the City of Baltimore, dates from the founding of the Peabody Institute in 1857. In that year, George Peabody, a Massachusetts-born philanthropist dedicated the Peabody Institute to the citizens of Baltimore in appreciation of their "kindness and hospitality". In 1982 the Peabody Library became part of the Eisenhower Library's Special Collections department. The George Peabody Library is widely recognized as one of the most beautiful library spaces in all of North America. Designed by Baltimore architect Edmund G. Lind, the library's magnificent neo-Grec interior features an atrium surrounded by five tiers of ornamental cast-iron balconies and graceful gold-scalloped columns that soar to a latticed skylight more than 60 feet above a black and white marble floor. Nathaniel H. Morison, first provost of the Institute, described the elegant library as a "cathedral of books." Reflecting the scholarly interests of the 19th century, the library's 300,000 volume collection is particularly strong in religion, British art, architecture, topography and history; American history, biography, and literature; Romance languages and literature; history of science; and geography, exploration and travel.
Welch Medical Library
Welch Medical library was found in the fall of 1929. The collection and services of the William H. Welch Medical Library are shaped by the Library's mission: "To provide the Johns Hopkins Medical Institutions and affiliates with information services that advance research, teaching, and patient care."

The library collects current scholarly information, in print and electronic formats, which supports the research, clinical, administrative, and educational needs of its clients. The collection covers health, the practice of medicine and related biomedical and allied health care disciplines, nursing, research literature, methodological literature, reviews or state-of-the-art reports, and in-depth, authoritative analyses of areas influencing biomedicine and health care. The library's Welch Gateway provides access to a variety of electronic health-related files including MEDLINE, HealthSTAR, CINAHL, PsycINFO, CANCERLIT, etc. In addition, the library supports a number of electronic journals, accessing them remotely on the worldwide web and providing full-text locally for approximately 1,400 titles.

Liaison librarians provide service to the faculty, students and staff of the Johns Hopkins Medical Institutions by sharing information about library collections, services, department-specific resources, and by supporting the teaching, clinical, and research needs of each department. Document Services provides books and articles for users at no cost. In order to use the service effectively, users are encouraged to check the JHU Libraries Catalog before ordering. Advanced Technologies and Information Services (ATIS) is supporting the academic missions of the Johns Hopkins University School of Medicine and the Johns Hopkins Medical Institutions through information technology and knowledge management. These efforts are largely web-based and directed toward supporting the academic missions of these entities. In addition, ATIS provides technical support to Office of Academic Computing (OAC) within the School of Medicine that 7 further the School's mission of excellence in education through the use of technology as well as to support the faculty in the development of highly innovative educational tools that will invigorate the learning process.
Other JHU Libraries:
Libraries at Peabody
Arthur Friedheim Music Library
Peabody Archives
Professional Studies in Business & Education (SPSBE) Libraries
Columbia Center Library
Downtown Center Library
Montgomery County Center Library
Washington D.C. Center Library
School of Advanced International Studies (SAIS) Libraries
Mason Library
Bologna (Italy) Center Library
Nanjing (China) Center Library
Applied Physics Laboratory Library
R.E. Gibson Library & Information Center
Hopkins Portal Project
There have been a number of decentralized "portals" or Web based initiatives at Hopkins over the years (one successful example of MyWelch portal is presented with this paper). Some simply provide a wide array of general information and link to a large number of constituents, while others provide a small set of authenticated and personalized services to a very specific group. In most cases, an individual department or constituent group has led these initiatives and the end product is naturally limited in terms of the scope of information and services.

Numerous platforms and technologies have been utilized in these initiatives. Technology standard, integration and ongoing support have often been an issue as the unstructured management effort in project administration and development.

In the absence of a common portal development framework, no single initiative can effectively address all the information and service requirements for each of Hopkins's user communities. This creates a situation in which users must visit multiple web applications and authenticate numerous times in order to accomplish their daily tasks. Facing above changes, a jointly initiative was launched and led by IT@JHU and Sheridan Libraries, when Hopkins feels that time is right to consider enterprise wide portal approach. Two parallel project teams established as Portal Technology Group and Portal Business Functional Group.

Portal Project Teams

Technology Group

The Technology Group was established to research and study the portal related enabling technologies, and provides technical recommendations regarding portal technology infrastructure. The decentralized nature of Hopkins and pre-existence of several successful division based portal installations, make it critical to research these technologies with an emphasis on extensibility, integration and openness.9

Objectives for this group should involve answering these and more questions:
What portal framework to we recommend and why?
How do we recommend implementing a portal and why?
How is the portal developed?

2-3 case studies of similar academic environments
Centrally vs. De-centrally?
In house resources vs. outsourced solution

How is the portal managed?
What are the key components of a portal?

Integration/interoperability
Single Sign On for all e-content/resources

Security and authorization management

Commercial Package vs. Open Source
Portal framework
Application server
Institutional search
Collaboration
Personalization
Content management

What timeline is reasonable for implementation?
What are the most critical components of the portal infrastructure?
Functional Requirement Group
The functional requirement group was established with objectives of defining the appropriate audience and specifications for a University-wide portal implementation. The group will work with end users or customers to identify desirable services and, in parallel, with the portal technology group that will choose an appropriate technological approach. Major reasons for moving in this direction are that our users expect more efficient, integrated, seamless, "anytime, anyplace" access to content and services, and for providing superior communications within and without the University.10
The group identified who are portal audience:
Students

Current
Prospective (e.g., high school students, counselors)
Full-time
Part-time
Offices that support students

Faculty

Researchers (both internal and external to Hopkins)
Instructors
Advisers

Staff

Across University (with diverse expectations and needs)

Medical

Patients
Physicians
Nurses

Alumni, Friends and Community

Friends of the University
Donors
Trustees
Alumni
External relations, news outlets, etc.
The group outlined Hopkins portal specifications or functional requirements include:
Integration with other services (e.g., search engine, authentication, file sharing, library resources) and existing workflow and business practices
Multiple "views" or modules to reflect various major, profiles, departmental or institutional affiliations
Need for public vs. private views
Mechanisms to prevent access to secure, private, restricted data or services
Usable and accessible
Need to keep content fresh, updated, and relevant
Mechanisms to track usage and adjust accordingly
Framework for working with existing portal implementations
Some level of user-specified customization, but also need to recognize that "providers" need to send announcements, messages, etc.
Ability to add channels (both endorsed by institution, and "personal" channels)
Project Vision and Future Plan
The vision of Hopkins portal is based upon following main concept:
The Hopkins enterprise portal will build based on a non-central, interoperate and open infrastructure with idea of portals as information hubs, or entry points to information resources, rather than a central location built around a specific service or administrative unit. The diverse users and needs within Hopkins, confirmed this concept of having channels or portlets that would be available based on enabling technologies such as single sign on (SSO) for authentication and authorization with maximized users and content providers customization flexibility.
To elaborate the concept further, the portal will be based upon following principles:
Hopkins portal environment will be diverse and a "reference portal" with recommended enabling technologies will be used as baseline for enterprise wide integration. The portal development effort will be organic and will continually evolve.
Hopkins's portal environment will be an open technology framework for application deployment and information aggregation. It will bring together the institution's multiple systems under a consolidated security mechanism, and standard interoperate framework, providing an intuitive and customizable on-line experience to members of the university community. The portal will utilize enabling technologies such as the enterprise directory JHED and SiteMinder – SSO software.
Hopkins's portal environment will be shaped by the constituents and community that it serves. Two portal project team: functional and technology consist of representatives of various constituent groups across the enterprise. A social structure must be nurtured throughout the university, in which constituents with common needs and interests can interact with each other and make recommendations through two project teams.
What's the next step?
Obtain executive management endorsement of the vision, tied to University's strategic plan of "Building on Selective Excellence" for Hopkins.
Undertake broader collaborative communication with formal and ad hoc university organizations to obtain buy-in on the value of non-central, integrate and open portal approach.
Strengthen two primary project teams collaboration, with appropriate charges and representative membership from constituents groups. Begin this initiative by reengaging the group from the initial portal functional and technology parallel investigation to a merged functional driven infrastructure building and enterprise wide portlets contents/application integration.
Establish deep working knowledge of emerging HopkinsOne Enterprise Resources Planning (a SAP based ERM initiative) web services protocols and standards and their applicability to the integration of enterprise business applications.
Open discussions with technical representatives other Hopkins' principal enterprise systems, such as Learning Management System, Library Management
System, and Institutional Repository System, etc. to determine the feasibility of enterprise wide portal integration
Project Status and "Reference Portal" Development Environment
Proposed "Reference Portal" hardware and software will be used to build and provide a managed development portal environment. We plan on using JRun4 as the J2EE container. JRun4 will host uPortal 2.4 and Macromedia CFMX as J2EE applications. Macromedia CFMX has been included in this mix because of the depth of institutional knowledge using Cold Fusion, and its ability to integrate with J2EE applications. Additionally, existing technology team has substantial experience in supporting and running CFMX, this is part of their current standard web hosting configuration. Proposed Hardware: Single Dell PowerEdge 2650, dual Xeon 3.06Ghz processors, 3Gig memory, 5x36 Gig SCSI 320 drives.
Proposed Software: uPortal 2.4 (latest version), CFMX 6.1 Enterprise (includes JRun 4), IIS 6, OS: Windows 2003, Microsoft SQL Server 2000
Proposed Architecture (see diagram below)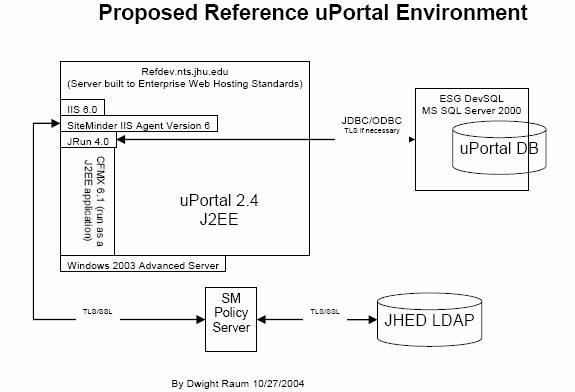 Library Information Portal (LIP) Case Study
MyWelch : The Development of Welch Library Portal
Design and development overview: Developed by Johns Hopkins University's Welch Medical Library, MyWelch is a Web-based academic library portal that allows faculty, students, and staff of the Johns Hopkins Medical Institutions to customize their online information environment. Since its launch in July 2002, more than 2,000 user accounts have been created and active, with an average of 66 user sessions and 5,000 page views per day.
One of the greatest challenges in developing MyWelch has been understanding users' information-seeking behavior. That knowledge serves as the basis for creating features and functions that will enhance their experience in terms of time and productivity. Instead of conducting user surveys and writing specifications prior to the development, we began this project by conducting a comprehensive evaluation of dozens of MyLibrary sites. After reviewing the sites, we contacted the developers and librarians responsible for creating them to inquire as to whether they developed their site in-house or if they used a vendor, whether they used commercial software or freeware, what software and hardware was used in their development, how long their sites were in development and/or production, how well they have been received by their user communities, and any obstacles they had encountered along the way.
Our initial proto-type was based on our analysis of the information we collected and existing knowledge of library operations. We conducted our first user survey based on this prototype, expecting that users would be able to provide more effective feedback after having reviewed the system in action. The online survey prompted users to provide feedback about their initial impressions of MyWelch as well as suggestions on how we might improve it. During the analysis and implementation stages, we focused on two user-centric principles, "Ease of Use" and "Value-added Information", and identified and developed the following functions and services accordingly.
Ease of Use:
One Stop Login: since MyWelch provides access to many features that require user authentication, we strove to optimize the user experience by requiring a single sign-on. Taking advantage of the university's LDAP authentication system, we developed the login mechanism inside MyWelch that allows users to access web email accounts, library accounts, calendars, and course management system without needing to repeatedly enter their user names and passwords.
Building Server-based Bookmarks: The Welch Medical Library has thousands of electronic resources from which users may select. Since users cannot bookmark these resources from public or shared workstations, we created a bookmark feature within MyWelch that allows users to access the resources of their choosing at from anywhere.
Useful Services: MyWelch provides access to a number of services, including a "Weather Update", an "Academic Calendar", the "Library Document Delivery System", and a "Web File Server".
MyNotepad: Users to write and store notes for easy access from within the application..
Web File System: Users can upload, download and share files using the application's Web-based file system.
MyWelch Search: The search feature allows users to simultaneously search both static and dynamic library content, displaying results by category.
Value-added Information:
Syndicated News Feeds: can browse headlines and story summaries from their favorite news sources by selecting from a list of news feeds and/or adding their own via RSS URL.
E-Journal Table of Contents (TOC): Users can select those journals appropriate to their academic and professional areas from a list of available TOC feedings through which they can keep updated by recent articles and news.
MyInterests: PubMed, a search and retrieval interface from National Library of Medicine, is an important information-seeking tool for health science professionals and researchers. In MyWelch, we developed a "MyInterests" function to fetch the most recent articles from PubMed based on the research and clinical subject areas users specify in their profile configuration.
AskMyLibrarian: This function allows users to submit questions and receive answers from reference librarians online.
Customization (Profile): MyWelch allows users to create custom profiles that specify their interest areas so that the system can better understand their needs; also, users are able to minimize or deselect any features of their choosing.
Personalization: Users can customize their interface by choosing from a selection of six colors and three layouts as well as adding, removing or minimizing content modules.
Usage data collection and tracking: From the beginning, we considered the portal an innovative approach for providing services to users as well as a means for librarians to gain better understanding of users' information-seeking behavior. We designed and deployed usage tracking and data collection mechanisms throughout the application in conjunction with user profiling and the university's LDAP authentication.
New users need the unique usernames and passwords provided by Johns Hopkins University's LDAP system in order to create their MyWelch accounts. Account creation includes the random assignment of a system ID, the selection of a user's academic or professional subject areas, identification of his or her primary field of research, teaching, studying, administration or clinical work (multiple choices); and customization of his or her MyWelch interface including layout and color. Users are then provided a list of library resources based on their user profiles. Whatever resources they choose to select will be saved in their account as bookmarks.
The information obtained during the initial account creation allows MyWelch to build a user profile, i.e. user's department and academic status (faculty, staff or student); primary research or professional areas and interests; a selection of electronic resources; and interface parameters.
While using MyWelch, data collection functions are deployed to track every move and information access until a user logs out or his or her session times out. This data collection is anonymous and based only on system IDs.
Usage data analysis to understand users' behavior and needs:
We have created several data synthesis and reporting functions for the system developers and librarians. These functions include:
Daily and weekly user access report: this function reports daily and weekly user access including through both the regular login process and cookie process. The report includes login time, total page views, and logout time. It further breaks down to user status, e.g. faculty, students, staff and others.
User customization and personalization report: This report includes information about users' selection of layouts, color, content box displays,, etc.
Individual functions report: These are detailed reports about each individual feature. They contain access time and usage statistics. They further breaks down to user status, e.g. faculty, students and staff.
Continue adjustment and development:
In addition to communicating with users through email and surveys, we seek to understand users' needs and information seeking behavior through observing their daily activities through usage statistics. Academic library portals like MyWelch provide a platform to observe, study, and understand user needs and behavior, which further our missions to provide better information services to our users.
Periodically, we study the usage statistics and, also taking into consideration user feedback and surveys, and make system modifications and adjustments:
Story 1: Cookie login. After the launch of MyWelch 1.0, we had many users designated the system in their browsers as their home page. We also learned that this group of users wanted access to MyWelch without having to continually log in. To accommodate this need, we built different sec and issues relate to security, account management, and system performance. We then explored different technologies for the implementation of this function. We ultimately developed a "cookie mode" that users could select configure that would allow them to no longer log in every time they accessed the application. Instead, when their browsers to point to the MyWelch URL, the system activates communication between the user's cookie on the client side and system variables on the server side to complete the user log in. Meanwhile, the system time-out function would be activated.
Story 2: Function/Contents box minimization and selection/de-selection. MyWelch has numerous features which users accessed with varying frequencies. In order to streamline users' information-seeking process, we developed a configuration option that allows users to minimize or deselect function/content boxes they don't use. Thus, once users login their MyWelch accounts, their favorite content/function boxes would appear on the top or significant positions to use easily, whereas, others would be minimized or behind the screen until users reconfigure their accounts.
Story 3: Most frequently used links. We have developed a server-side feature in MyWelch called "My 5 most accessed" to store the user's five most accessed links, enabling the user to get to the resources they most need as quickly as possible..
Story 4: Deletion of information forum function. We created an online forum to foster scholar communication among members of the JHMI community. However, we found that only a handful people were used the forum. Therefore, we decided to disable the function until we could further refine it into a more desirable format. In the future, for example, we may offer a service that allows users to create their own subject-specific forums to discuss various issues related to academic and campus activities.
Story 5: Modification and enhancement electronic resource selection process. The number of electronic resources available in academic libraries has increased substantially over the past several years, making it more challenging for librarians and library patrons to find resources most relevant to their research or professional areas. MyWelch attempts to help face this challenge by mapping users' areas of expertise to library's subject headings and then further mapping these subject headings to individual electronic resources. After studying the usage statistics, we found that the mappings were too broad and led to too many resource selections since many electronic resources cover a wide range of subjects. Users still had difficulties narrowing down the of electronic resource selections. So we then developed several strategies that complement the subject-mapping approach, e.g. displaying "Impact Factor" as a means of providing the user with more information.. We also developed a feature that identifies the ten most-used electronic resources by the faculty and staff from within a user's department so a user has an even better frame of reference when selecting electronic resources.
Future development plan:
The future development will be more focused on (1) knowledge management and sharing. In particular, we will introduce UMLS (Unified Medical Language System) as a general concepts structure for our users to index their personal data files and further to detect and discover those possible new research areas relate to their current researches. We plan to develop graphic-based tool to assist users to attain such objective; (2) providing more clinical related information for online search. These include clinical guidelines, procedures, local regulations and drug updates and provide UMLS equipped search engine to aggregate and categorized the search outcomes and improve the search performance.
---
Notes:
1 Merriam-Webster Online. URL address: http://www.m-w.com. Accessed on February 4, 2005.

2 KM Magazine. URL address: http://www.kmmagazine.com, Accessed on February 4, 2005.

3 DAEDALUS. URL address: http://www.daedalus.es/AreasGCDef-I.php. Accessed on February 4, 2005.

4 ibid.

5 The Free On-line Dictionary of Computing. URL address: http://burks.brighton.ac.uk/burks/foldoc/. Accessed on February 4, 2005.

6 "Enterprise Portal & Portlet FAQ". URL address: http://www.jroller.com/page/portletfaqs. Accessed on February 5, 2005.

7 "ARL Scholars Portal". URL address: http://arl.cni.org/access/scholarsportal/index.html. Accessed on February 4, 2005.

8 Cox, Andrew and Yeates, Robin. (2002). "Library orientated portals solutions." JISC: 6-52.

9 Raum, Dwight and Wang, Xuemao. (2004). "Hopkins Portal Technology Group Charter"..

10 Choudhury, Sayeed. (2004). "Hopkins Portal Project Functional Requirement Group Meeting Minutes."
---
Originally published on the 3rd China-US Library Conference website (http://www.nlc.gov.cn/culc/en/index.htm).
Copyright © 2005 Xuemao Wang & Dongming Zhang
---