Print and Electronic Resources for Chinese Studies:
Current Trends
Liren Zheng
Ohio University Libraries
U.S.A.
I. Overview of the Publishing Industry in China
China's publishing industry has been developing very rapidly during the past two decades since China started its economic reform in the late 1970s. In 1979, there were only 105 publishing houses in China. 21 years later, in 2000, China had 562 publishing houses. This is a phenomenal increase of 435%. In 1979, China only produced 17,000 monographic titles. In 2002, 178,900 monographic titles were published in China, an even more impressive increase of 952%. In 2001, China had 8,889 registered periodicals and 2,001 registered newspapers. This amazing growth is unprecedented in China's publishing history.
Rapid Development of the Publishing Industry in China
Publishing Houses

Books

Periodicals

Newspapers

1979

105

 1

17,000

 1

 /

 /

 /

 /

1999

527

 /

141,834

 /

8,187

 /

2,038

 /

2000

562

435%

143,376

 /

8,725

 /

2,007

 /

2001

 /

 /

154,526

 /

8,889

 /

2,001

 /

2002

 /

 /

178,900

952%

9,002

 /

 /

 /
The rapid development of the publishing industry naturally spurred the great growth of China's book exports. In 2001, China exported $18 million (USD) worth of publications, including 601,662 books, 40,115 issues of periodicals, and 1,583 newspapers.
Export of China's Publications in 2001
| | | | |
| --- | --- | --- | --- |
| | Titles | Copies in Million | USD in Million |
| Books | 601,662 | 3.0585 | 13.7058 |
| Periodicals | 40,115 | 1.83 | 2.8569 |
| Newspapers | 1,583 | 1.1658 | 1.0767 |
| Audio Products | 5,270 | 0.199275 | 0.0894 |
| Video Products | 11,820 | 0.184590 | 0.4780 |
| E-Publications | 4,503 | 0.072584 | 0.2018 |
| Total | n/a | n/a | 18.4086 |
The booming publishing industry has attracted book export dealers from mainland China, Taiwan, Hong Kong, overseas Chinese communities, and Western countries to engage in exporting China' publications.
In terms of the exporting arena, the lion's share has been taken up by three of China's major national companies, that is, the China National Publication Import and Export Corporation (headquartered in Beijing), the China National Publishing Industry Trading Corporation (headquartered in Beijing), and the China International Trading Company (headquartered in Guangzhou). While Beijing's companies, with branch offices in New York, Los Angeles, San Francisco, Paris, and London, deal primarily with businesses in the Western world, Guangzhou's company focuses on Hong Kong, Macao, and Southeast Asia. The Beijing-based companies will soon merge and form a book export giant: China Book Distribution Group, which will certainly control an even bigger share of this business.
Besides the national giants, book dealers at the provincial level (e.g., Jiangsu Provincial Book Export Company and Sichuan Provincial Book Export Company), book dealers specialized in specific fields (e.g., China Classics), book dealers from Hong Kong and Taiwan (e.g., Hong Kong Man's Company), and overseas Chinese book dealers (e.g., Dragonsource), are all very active in exporting China's publications. Many overseas Chinese book dealers are new immigrants from mainland China. They used to work in state-run book trading companies. Now they utilize their old connections and knowledge gained from past experiences to aggressively compete with their former employers.
Different from Chinese dealers, Western dealers, such as Inter Documentation Company (Leiden, the Netherlands), Thomson/Gale (Farmington Hills, Michigan), and Norman Ross (New York), are mainly interested in microfilming declassified historical documents, local gazetteers, old government bulletins, old newspapers, and old serials in cooperation with China's archives and libraries. These undertakings require big capital and sophisticated distribution channels, which many Chinese dealers do not currently possess.
To promote book exports, China holds the Beijing International Book Fair (BIBF) each year. In 2002, 521 domestic publishers and over 950 foreign and domestic dealers from 42 countries participated in this event. Approximately, 100,000 titles were exhibited.
The publishing industry is a "sunrise" industry in China. In 2002, the investment return rate on Chinese newspapers was 50%. Total revenue of the publishing industry reached 8.86 billion US dollars, which was an increase of 5.5% from the previous year. In China, the publishing industry is part of the media industry. With an annual profit of 12 billion US dollars, the media industry overtook the tobacco industry to become the fourth largest industry in China, next only to electronic information, manufacturing, and tourism. Many domestic and foreign investors are excited about having a stake in this growing business. It is foreseeable that as more capital flows into this field, more publications will be produced.
Besides mainland China, the publishing industries in Hong Kong and Taiwan are also thriving. In 2001, there were 50 newspapers (25 Chinese, 13 English, 6 bilingual, and 6 in other languages), 758 periodicals (506 Chinese, 129 English, 106 bilingual, and 17 in other languages), and 10,813 new monograph titles published in Hong Kong. In 2002, the total export of publications from Hong Kong was worth 1 billion US dollars. With 48.3% of Hong Kong's publication export absorbed by the United States, Hong Kong has become the fourth largest supplier of print products to the United States. In Taiwan, 43,035 monograph titles were produced in 2002. In the same year, there were 514 registered newspapers, 3,909 registered periodicals, and 6,023 registered book publishers in Taiwan. Each year, Taipei holds the Taipei International Book Exhibition (TIBE). In 2002, 420,384 copies of books published by Taiwan publishers were exported to mainland China. It is worth mentioning that many scholars from mainland China now have their works published in Taiwan as the Committee for Mainland China Affairs of the Taiwan government has set up a special Chinese Development Fund (Zhonghua Fazhan Jijin;中華發展基金) to exclusively sponsor the publication of academic works by mainland China's scholars.
II. Print Resources
Books
As mentioned earlier, in 2001, China published a total of 154, 526 monograph titles, of which 91,416 were new prints. The breakdown of these books shows that a big chunk of these books, over 60%, were popular literature, or in other words, books for popular consumption. Books in economics, politics, history, philosophy, and social sciences merely accounted for 16.78%, of which books in social sciences, with a percentage of 1.19% of the total number of books printed, fare particularly badly. This was, of course, determined by the consumer market.
Books Published in China in 2001
| | | |
| --- | --- | --- |
| Subjects | Titles (New Prints) | % |
| Culture, Popular Science, Education, Sports | 61,174 (27,536) | 40.17 |
| Literature & Language | 18,338 (12,644) | 20.08 |
| Industry Technology & Transportation | 19,108 (11,606) | 12.55 |
| Economics | 10,460 (7,708) | 6.87 |
| Art | 9,765 (6,672) | 6.41 |
| Politics & Law | 6,589 (5,006) | 4.33 |
| Medicine & Health | 6,440 (4,074) | 4.23 |
| Science | 5,799 (3,480) | 3.49 |
| History & Geography | 4,878 (4,075) | 3.20 |
| Agriculture | 3,281 (2,043) | 2.15 |
| Philosophy | 1,849 (1,347) | 1.19 |
| Social Sciences | 1,812 (1,424) | 1.19 |
| Military Affairs | 446 (390) | 0.29 |
| Others | 5,089 (3,750) | 3.29 |
| Total | 154,526 (91,416) | 100 |
To balance the profit-oriented trend in the publishing industry, the Chinese government drew up a 5 year plan (2001-2005) to financially sponsor the publication of 1,606 important books that would otherwise not be published. Of these state-funded books, 37.98% were academic works in social sciences.
1,606 State-Sponsored Books
| | | |
| --- | --- | --- |
| Subject | Titles | % |
| Social Sciences | 610 | 37.98 |
| Sciences & Technology | 386 | 24.03 |
| Literature & Art | 214 | 13.32 |
| Children's Books | 111 | 6.91 |
| Minorities | 68 | 4.23 |
| Chinese Classics (guji, 古籍) | 60 | 3.73 |
| Popular Sciences | 56 | 3.48 |
| Education | 47 | 2.92 |
| Popular Reading | 25 | 1.55 |
| Books for the Rural Population | 22 | 1.36 |
| National Infrastructure Projects | 7 | 0.06 |
Books that have also been receiving full funding from the governments are local gazetteers. A local gazetteer, called difangzhi (地方誌) in Chinese, is actually a combination of local chronicles, biographies of local celebrities, and local references. From 1979 to 1999, over 10,000 local gazetteers were compiled and published by provincial, municipal, and county governments. People might be perplexed and ponder over why Chinese officials are enthusiastic about compiling local gazetteers. The answer to this enigma is that this is a long-standing Chinese tradition. Like a good head of a family who renders sufficient attention to the genealogy of his family, a local official who is keen about his own reputation will compile a good local gazetteer during his tenure in office. As a result, China has thousands of local gazetteers that can be utilized to trace the local history back to hundreds or thousands of years ago. In 1985, the National Library Microfilming Center for Historical Documents was set up in Beijing. By 2001, 971 old local gazetteers from 8 provinces (Jiangsu, Zhejiang, Fujian, Jiangxi, Hunan, Guangdong, Sichuan, and Guizhou) were microfilmed and subsequently sold in overseas markets.
Another important historical resources that have been actively "dug out" for publishing in recent years are historical archives (lishi dang'an, 歷史檔案). For example, the Liaoning Provincial Archives has published scores of archives it holds in cooperation with China Archives Press and other domestic publishing houses. The following is a partial list of archives it published.
<![if !vml]>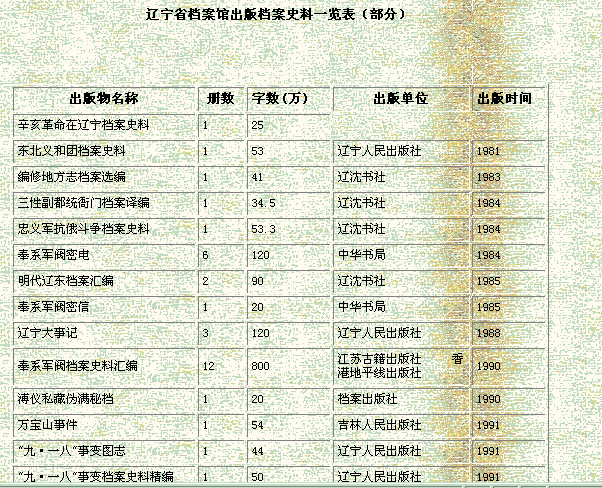 <![endif]>
The Second Historical Archives of China in Nanjing went even further. It has found foreign partners such as IDC (Documentation Company) and Thomson/Gale to microfilm a wealth of unique archives it houses, which include:
The Maritime Customs Service Archive (1850-1949)
The Nanjing Provisional Government Archive (1912)
The National Government in Guangzhou and Wuhan Archive (1925-1927)
Periodicals and Newspapers
In 2001, 8,889 periodicals with a total of 2.8 billion copies were published in China. According to the fields they belong to, these periodicals can be broken down as follows:
Periodicals Published in China in 2001
| | | |
| --- | --- | --- |
| Field | Titles | % |
| Sciences & Technology | 4,420 | 49.73 |
| Philosophy &Social Sciences | 2,252 | 25.33 |
| Culture & Education | 947 | 10.65 |
| Literature & Art | 545 | 6.13 |
| General | 520 | 5.85 |
| Children's | 141 | 1.59 |
| Pictorials | 64 | 0.72 |
| Total | 8,889 | 100 |
Of these periodicals, around 4,000 were academic journals. Of academic journals, 1,517 were ranked as core journals in their related academic fields. The list of academic core journals as well as many articles published in these core journals can be found at the following web site http://localsev.lib.pku.edu.cn/cjc/:
Core Journals
<![if !vml]>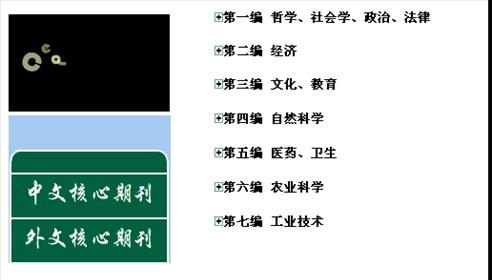 <![endif]>
In 2001, 2,111 newspapers were published in China. Of these newspapers, 210 (9.95%) were national newspapers; 782 (37.04%) were provincial newspapers; 882 (41.78%) were municipal newspapers, and 237 (11.22%) were county newspapers.
III. Electronic Resources
Electronic resources are published in two formats: CD-ROMs and Internet.
CD-ROMs
China started its research of CD-ROM technology in the late 1970's and produced its first optical recording and reading system in 1985. Today, China is one of the major CD-ROM producing centers in Asia. China's publishers widely use CD-ROM technology to produce or reproduce indexed, full-text, searchable products. For example:
Reference tools:

Encyclopedia of China (中國百科全書)

Zhongwen Da Cidian (中文大辭典)

Chinese Classics:

Siku Quanshu (四庫全書)

Old newspapers:

Peoples' Daily (人民日報)

Cankao Xiaoxi (參考消息)

Old serials:

Wenshizhe (文史哲)

Databases:

China's Laws and Regulations Database (1949-1999)

Chinese Academic Journal Database

Chinese Newspaper & Periodical Index Database (CNPID)
Of the above products, the CD-ROM database Chinese Newspaper & Periodical Index Database (CNPID) deserves a special attention. This project was initiated by the Shanghai Municipal Library and was sponsored by the Culture Department of the PRC Government. The CNPID contains over 5 million full-text articles on social sciences, science, and technology from newspapers and periodicals published during the period from 1857 to 2000. This database is updated 4 times a year with 110,000 additional items added to each new edition.
Internet
Internet resources are categorized in 5 types: 1) Internet publications, 2) publication information, 3) databases, 4) searchable resources, and 5) subject guides.
1. Internet Publications
The Internet was introduced into China in 1987. In 1991, the first Internet publication, The History of the Relationship Between the Kuomintang and the Chinese Communist Party, was created by Professor Chen Guangzuo at Wuhan University. In 1995, Shenzhou Xueren became the first periodical in mainland China that published an electronic edition. In 1998, more than 300 Chinese electronic newspapers and periodicals were published in China. Today, over 3,000 periodicals in China, roughly 35% of the total number, have online editions.
Longyuan Qikanku is a useful and economical Chinese e-journal database. This database covers more than 300 Chinese periodicals with over 3 million articles available. Items included in this database can be searched by author, article title, periodical name, and subject heading or simply by browsing through periodicals arranged according to subject headings. The price is 60 articles for 6 dollars or 1,000 articles for 50 dollars. On average, that works out to be 5 cent per article.
<![if !vml]>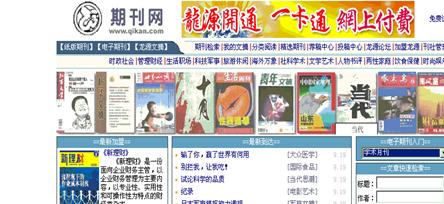 <![endif]>
Many Chinese newspapers are also available online today:
<![if !vml]>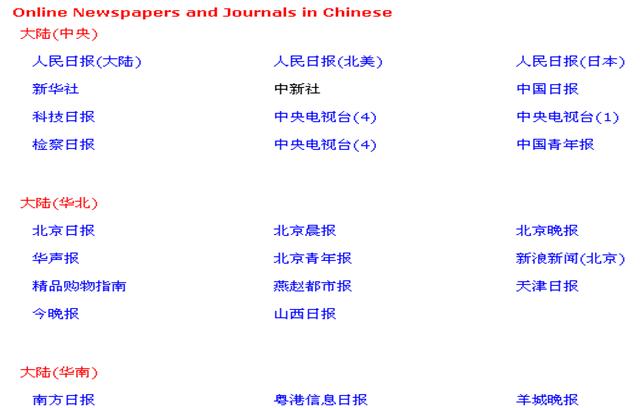 <![endif]>
In addition, many electronic papers have archives available so that previous issues can be traced online:
<![if !vml]>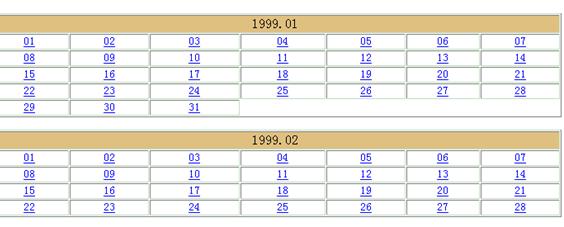 <![endif]>
E-books are also gradually becoming popular in China. The China EBook Network, founded by the Liaoning Publishing Group, is one of the largest e-book stores in China.
<![if !vml]>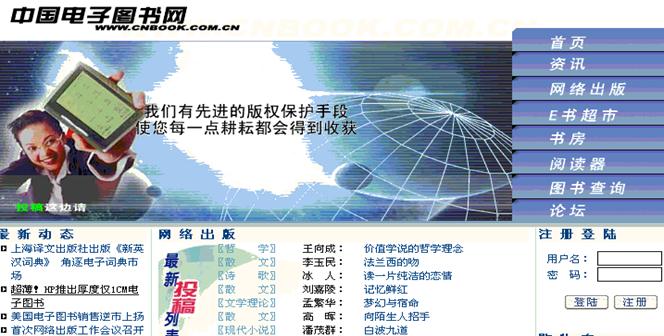 <![endif]>
2. Publication Information
Most publishing houses in China have their own web sites which provide information regarding recent publications, book reviews, and book order and delivery services.
<![if !vml]>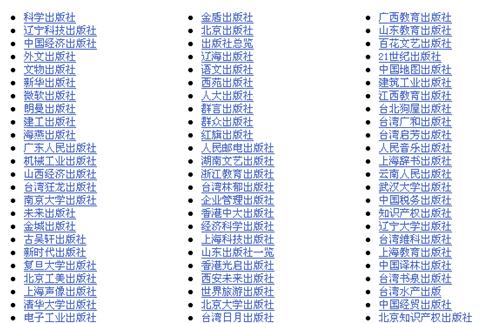 <![endif]>
Most of the scholarly works in China are published by over 100 university presses. In addition, there are around 20 publishing houses specializing in printing scholarly works. In social sciences, a significant number of academic works are published by 4 publishing houses under the Chinese Academy of Social Sciences (CASS):
Local Records Publishing House
A newly created English e-journal, China Publishing, provides the latest news on recent Chinese publications, lists of bestsellers, along with pertinent information about China's laws and regulations regarding the publishing industry.
<![if !vml]>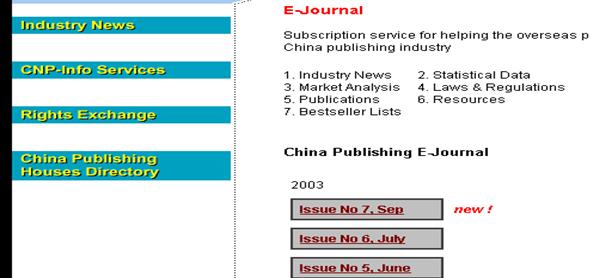 <![endif]>
3. Databases
The following are currently the six most-used databases for Chinese academic articles and papers.
● China National Knowledge Infrastructure (CNKI)
www.cnki.net (Chinese)
www.global.cnki.net (English)
The CNKI is composed of 13 databases, including
Chinese Journal Full-text Database (CJFD)
      (5,300 journals with 7.2 million articles published after 1994)
Chinese Core Newspaper Database (CCND)
      (Over 500 newspapers with 2.2 million articles)
Chinese Master/Doctor's Dissertation Database (CDMD)
      (Over 30,000 dissertations and theses)
Chinese Proceedings of Conference Database (CPCD)
      (Over 900 conference proceedings)
<![if !vml]>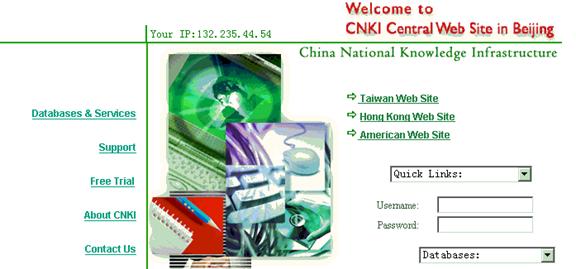 <![endif]>
In 2003, East View Publications, based in Minneapolis, started to include CNKI as part of its information services.
● Wanfang Data
www.wanfangdata.com.cn (Chinese)
http://periodicals.wanfangdata.com.cn/english.html (English)
<![if !vml]>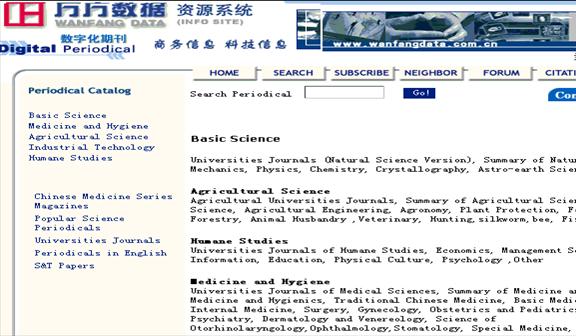 <![endif]>
Wanfang Data covers 3,000 academic journals published in mainland China. It also contains articles from English editions of the Chinese academic journals.
<![if !vml]>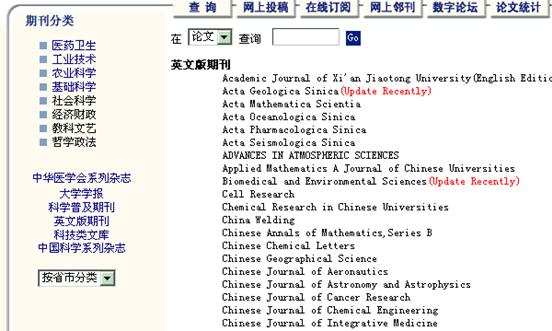 <![endif]>
● The National Science and Technology Library (NSTL)
The NSTL holds over 4.5 million full-text articles and papers in science and technology.
<![if !vml]>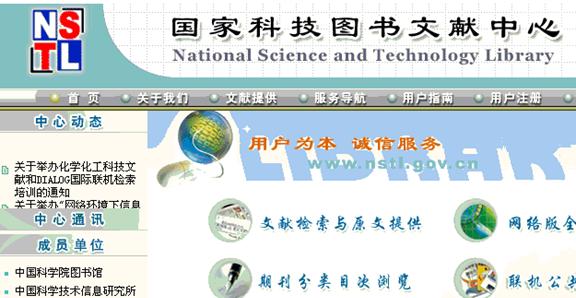 <![endif]>
● The Chinese Social Sciences Citation Index
The Chinese Social Sciences Citation Index, created by Nanjing University, is a citation database for social sciences articles.
<![if !vml]>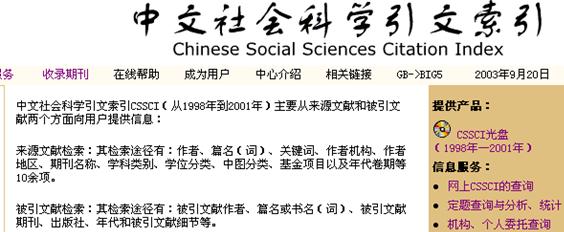 <![endif]>
● Index to Chinese Periodical Literature (PerioPath)
www2.read.com.tw/cgi/ncl3/m_ncl3 (Chinese)
www2.read.com.tw/cgi/ncl3/m_ncl3?652c2c654c686f67435a74745675656643
(English)
Index to Chinese Periodical Literature, created by the National Central Library of Taiwan, covers 2,700 periodicals and academic journals published in Taiwan, Hong Kong, and Macao since 1991.
<![if !vml]>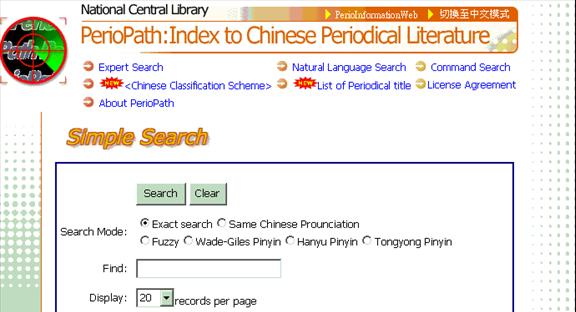 <![endif]>
● Gateway Service Center of Chinese Academic Journal
Gateway Service Center of Chinese Academic Journal is a joint project of East Asian Library of the University of Pittsburgh, Beijing University Library, Tsinghua University Library, Shanghai Fudan University Library, Shanghai Jiaotong University Library, Wuhan University Library, Chinese University of Hong Kong Library, and Fu Ssu-nien Library of Academia Sinica for the free delivery of full-text Chinese language academic publications, which are not available in any U.S. libraries, to researchers.
<![if !vml]>

<![endif]>
4. Searchable Resources
There are numerous searchable resources available on the Internet. The following are some examples.
● China – A Country Study
 http://lcweb2.loc.gov/frd/cs/cntoc.html
This web site, created by the Library of Congress, contains general and detailed information concerning China's history, geography, population, culture, education, social system, judicial system, government, politics, economy, agriculture, industry, trade, transportation, sciences, technology, foreign relations, and national defense.
<![if !vml]>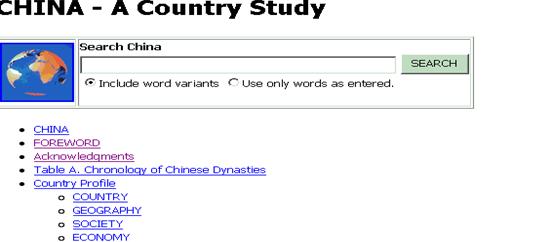 <![endif]>
● The China Population Information and Research Center (CPIRC)
www.cpirc.org.cn/popindex.html (Chinese)
www.cpirc.org.cn/eindex.htm (English)
The CPIRC provides China's population statistics.
<![if !vml]>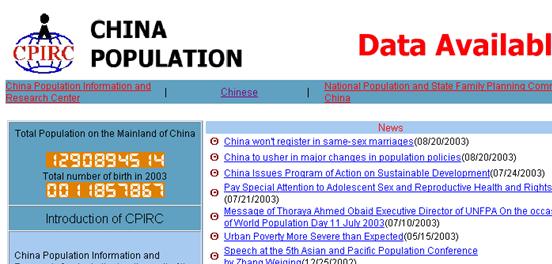 <![endif]>
The following is a sample of the statistics found on this site.
<![if !vml]>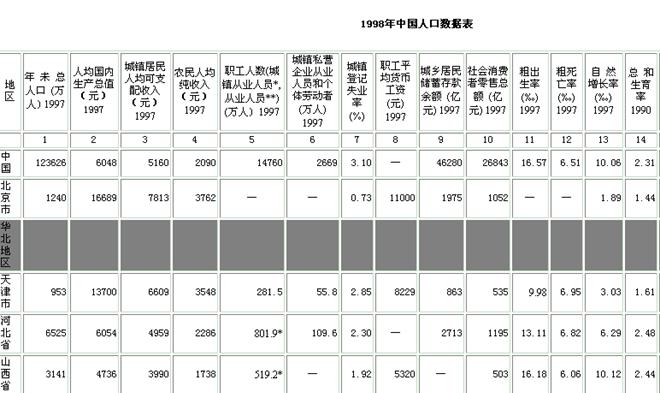 <![endif]>
● Name Index to China's Local Gazetteers
www5.nlc.gov.cn/newpages/serve/dfz.htm
This web site, created by the National Library of China, is focused on individuals whose names have appeared in local gazetteers compiled after 1949. Users can search by name, gender, nationality, birth and death dates, birth place, etc., as an index to look for a particular person.
<![if !vml]>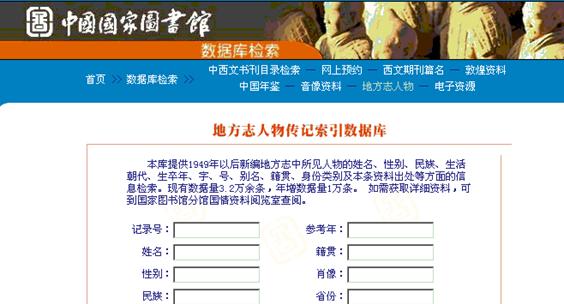 <![endif]>
● Genealogy Networks
This web site contains genealogical information in regard to histories, genealogies, and famous historical figures related to many surnames in China.
<![if !vml]>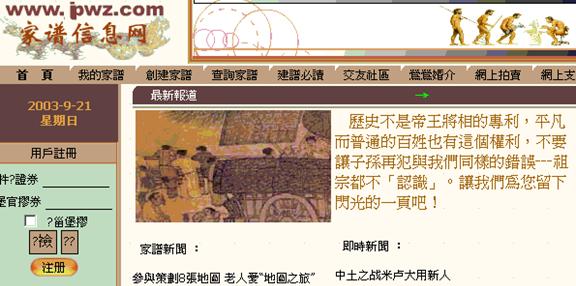 <![endif]>
● Chinese Movie Database
This web site provides information on all Chinese movies.
<![if !vml]>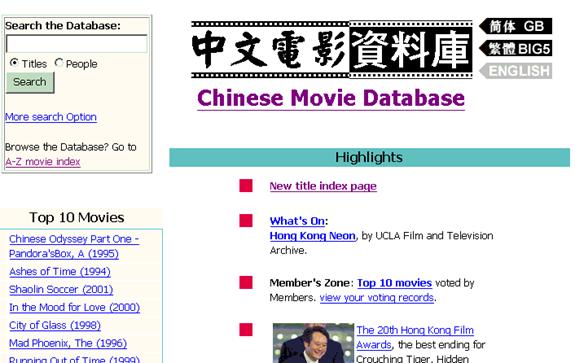 <![endif]>
● 25 Shi (History of 25 Dynasties in China)
www.sinica.edu.tw/~tibe/2-volume/25-history/
From this web site, users can track historical records on persons or events that left their marks in China's 4,000 years of history.
<![if !vml]>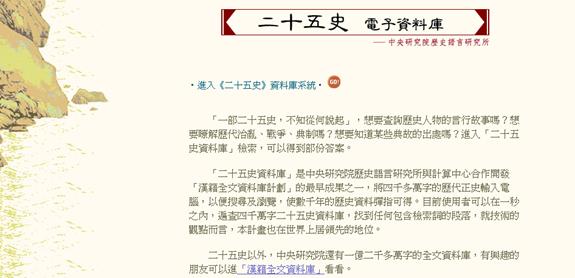 <![endif]>
● 13 Jing (Thirteen Chinese Classics)
www.sinica.edu.tw/%7Etibe/2-volume/13-classics/
This web site provides the Confucian teachings contained in the thirteen Chinese Classics.
<![if !vml]>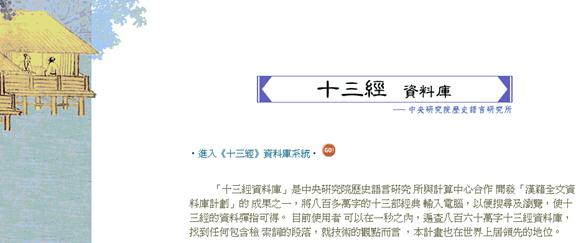 <![endif]>
5. Subject Guides
Most of the East Asian programs and library collections in the U.S. and around the world have created subject guides for Chinese studies. These are very important resources for scholars and students in the filed of Chinese studies. East Asian scholars and librarians affiliated with each institute and library have made tremendous efforts to create subject guides, and their achievements should be appreciated and well utilized. Ohio University Library's East Asian Resources web site has collected subject guides from these programs and library collections, which provide valuable information regarding their programs, collections, faculty and staff, and pertinent internet resources as well.
● East Asian Programs and Library Collections in the United States:
http://www.library.ohiou.edu/subjects/eastasia/us_programs.htm
<![if !vml]>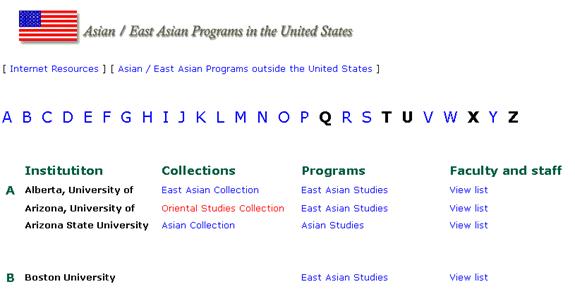 <![endif]>
● East Asian Programs and Library Collections around the world
http://www.library.ohiou.edu/subjects/eastasia/osus_programs.htm
<![if !vml]>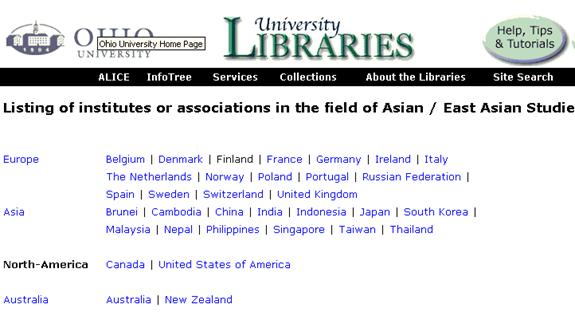 <![endif]>
IV. Conclusion
With China's economic booming and political reforms in the last two decades, Chinese publications in both print and electronic formats are like mushrooming after a spring rain. Many valuable archival materials are now available for free or fee. It is a golden time to mine such rich resources and collect materials for Chinese studies. It is the author's belief that the current trends in China's publishing industry will continue in the foreseeable future. It is at once a blessing for overseas Chinese scholars and a daunting challenge to Chinese studies librarians. Limited collection budget coupled with library staff shortage calls for more cooperation and collaboration nationally or even internationally.